Ad blocker interference detected!
Wikia is a free-to-use site that makes money from advertising. We have a modified experience for viewers using ad blockers

Wikia is not accessible if you've made further modifications. Remove the custom ad blocker rule(s) and the page will load as expected.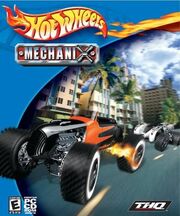 Hot Wheels Mechanix is a PC-only video game where players could edit their cars with motors, tires, and even wings, and paint jobs.
Cars
(18 total)
Tracks
Tiki Jungle
Pluto Mines
Beachway
Asteroid Belt
Urban Station
Construction Yard
Moon Base
Tire Upgrades
Off Road
Pontoon
Economy
Spikes
Wings
Short Wings
Medium Wings
Long Wings
Motors
(Note the motors only add HP)
Best Tire Choices
Tiki Jungle: Pontoon
Beachway: Pontoon
Moon Base: Spike
Construction Yard: Off Road
Asteroid Belt: Economy
Urban Station: Economy
Pluto Mines: Spikes