Ad blocker interference detected!
Wikia is a free-to-use site that makes money from advertising. We have a modified experience for viewers using ad blockers

Wikia is not accessible if you've made further modifications. Remove the custom ad blocker rule(s) and the page will load as expected.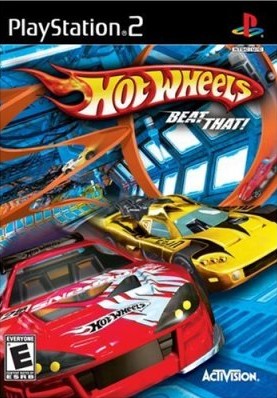 Hot Wheels: Beat That! is a video game released in September 2007 developed by Eutechnyx and Neversoft. It's a great first race game for kids age 3 and up. Simple, fun racing with your favorite Hot Wheels cars. The game is available for PC, Wii, PS2, Xbox 360 & Nintendo DS
The game features 30 authentically modeled vehicles and 2 Unplayable Vehicles, two-player gameplay, competitive weaponry and power-ups. You race through a Bedroom, Mini Golf, Attic and a Bowling Alley.
New events and cars can be unlocked by winning an event or achieving the 2 secondary goals for each event.
The weapons are: Tesla Ray (temporarly disables controls for a nearby car), Rockets (3 that can be used to blow up cars or open new routes), Boosts, EMP (which disables all opponent's weapons), Smokescreen, Air Strike (a small jet fighter flies over and drops bombs), Mines, Mortars (that can be used to blow up cars or open new routes) and Parachute Darts (to slow down other cars). These weapons dramatically change gameplay.
Featured Cars with Game Stats
Name
Game Playability
Game Version to Actual Version Comparison
Game Version
Actual Version
(or Close Proximity)
Spd
Acc
Hdlg
Chg
Brutalistic
In All Formats
Same as 2007 Treasure Hunt version, except for the wheels

4/10
3/10
4/10
4/10
SpecTyte
In All Formats
Same as 2006 Realm Series version

3/10
5/10
5/10
2/10
Covelight
In All Formats
Same as 2006 Acceleron Series version

5/10
5/10
2/10
3/10
Rapid Transit
In All Formats
Same as 2006 Bone Blazers version

4/10
4/10
6/10
3/10
Off Track
Not in DS Format
Same as 2006 Off Road Warriors 5-Pack version, except for the wheels

2/10
5/10
4/10
4/10
Fandango
Only in DS Format
Same as 2006 Sci-Fi Hiway 5-Pack version

2/10
5/10
4/10
4/10
Mid Drift
Not in DS Format
Same as 2006 Drift Kings version

3/10
3/10
5/10
4/10
Vandetta
Only in DS Format
Same as 2006 X-Raycers 5-Pack version

3/10
3/10
5/10
4/10
Bully Goat
In All Formats
Same as 2006 V-Drop Track Set version

2/10
3/10
5/10
5/10
Cool-One
In All Formats
Same as 2006 Urban 5-Pack version

4/10
2/10
4/10
5/10
Sooo Fast
In All Formats
Same as 2005 Heat Fleet II 5-Pack version

5/10
5/10
1/10
4/10
Jack Hammer
In All Formats
Same as 2006 Realm Series version

1/10
5/10
4/10
5/10
MST Suzuka
Not in DS Format
Same as 2005 White Heat Series version

3/10
5/10
3/10
4/10
Rapid Transit
Only in DS Format
Same as 2005 Heat Fleet II 5-Pack version

3/10
5/10
3/10
4/10
Formul8r
In All Formats
Same as 2007 Hot Wheels Racing Series version

2/10
5/10
3/10
5/10
Rockster
In All Formats
Same as 2006 Hot Trucks 5-Pack version, except for the wheels

4/10
3/10
3/10
5/10
Chicane
In All Formats
Same as 2006 AcceleRacers Team Colors Series version

5/10
3/10
3/10
4/10
Hot Wheels Drift King 24/Seven
In All Formats
Same as 2007 Hot Wheels Racing Series version

4/10
4/10
5/10
5/10
Drift 24/Seven
Only in DS Format
Same as 2007 Drift Kings Series version

4/10
4/10
5/10
5/10
The Demon
In All Formats
Same as the 6th Annual Collectors Nationals version, except for the wheels

6/10
4/10
4/10
6/10
Phantom Racer
Not in DS Format
Same as 2005 White Heat Series version

6/10
6/10
5/10
5/10
Burlesque
Only in DS Format
Same as 2007 Dragon 5-Pack version

6/10
6/10
5/10
5/10
16 Angels
In All Formats
Game version is a combination of the tampos from the 2004 First Editions version and the paint color from the 2007 Heat Fleet version




6/10
8/10
7/10
4/10
Super Tsunami
In All Formats
Same as 2006 Drift Kings Series version

6/10
6/10
7/10
7/10
Muscle Tone
In All Formats
Same as 2008 Black Friday 10-Pack version

6/10
7/10
7/10
7/10
Bone Shaker
In All Formats
Same as 2006 New Models version

8/10
6/10
6/10
8/10
Battle Spec
In All Formats
Same as 2006 AcceleRacers Series version

8/10
9/10
6/10
6/10
Nitro Door Slammer
Not in DS Format
Same as 2007 New Models version

7/10
8/10
8/10
7/10
Synkro
Only in DS Format
Same as 2006 AcceleRacers Team Colors Series version

7/10
8/10
8/10
7/10
Da Kar
Not in DS Format
Same as 2006 Off Road Warriors 5-Pack version

8/10
8/10
8/10
8/10
Vulture
Only in DS Format
Same as 2006 Sci-Fi Hiway 5-Pack version

8/10
8/10
8/10
8/10
Hollowback
In All Formats
Same as 2005 AcceleRacers Metal Maniacs version

9/10
8/10
9/10
7/10
Dieselboy
In All Formats
Same as 2006 New Models version, except for the wheels

9/10
8/10
7/10
10/10
Spine Buster
In All Formats
Same as 2006 Acceleron Series version

9/10
9/10
10/10
8/10
Power Bomb
9-9-10-10 Version Not in DS Format
Same as 2006 AcceleRacers Team Colors Series version

9/10
9/10
10/10
10/10
Carbide
Only in DS Format
Same as 2006 AcceleRacers Team Colors Series version

9/10
9/10
10/10
10/10
Speed Bump
Not in DS Format
Same as 2006 V-Drop Track Set version

10/10
10/10
10/10
10/10
Power Bomb
10-10-10-10 Version Only in DS Format
Same as 2006 AcceleRacers Team Colors Series version

10/10
10/10
10/10
10/10
Shadow MkII
Unlockable in All Formats
Same as 2005 Hot Wheels Racing Series version

10/10
10/10
10/10
10/10
Gallery