Shortly after Ferninand Porsche first introduced Germany's 'Peoples Car' more than five decades ago, Volkswagen's Beetle and Microbus became automotive phenomena. The cute, durable, rear-engine vehicles were so popular during the '60's, 70's, and '80's that it was almost impossible to find a street or stretch of road in America that didn't have at least two or three cruisin' along. Their pleasing lines are so classic in style that they have become popular vehicles within the custom car culture. Accordingly, 100% Hot Wheels proudly offers the Hot & Classic Bugs & Buses set. Each model is offered as a showroom beauty and as a cool customized cruiser.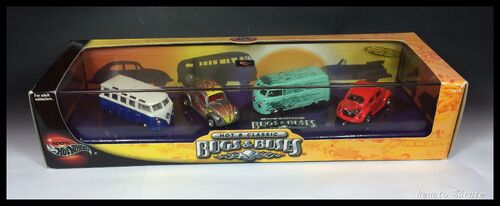 Vehicles
The following vehicles were included in the Hot & Classic - Bus & Buses 4-Car Set:
Ad blocker interference detected!
Wikia is a free-to-use site that makes money from advertising. We have a modified experience for viewers using ad blockers

Wikia is not accessible if you've made further modifications. Remove the custom ad blocker rule(s) and the page will load as expected.