Ad blocker interference detected!
Wikia is a free-to-use site that makes money from advertising. We have a modified experience for viewers using ad blockers

Wikia is not accessible if you've made further modifications. Remove the custom ad blocker rule(s) and the page will load as expected.
Heavy Chevy
Debut Series
Flying Colors
Produced
1974 - 1977
Designer
Ira Gilford
Number
7619
Heavy Chevy Description
The 1974 Flying Colors 'Heavy Chevy' was based on '67 camaro. Re-issued off the old casting of Heavy Chevy (1970). THis model sported the new bright Enamel paint and Flying Colors tampo. It was like a sunburst on the sides.
The blister pack for 1974 was changed to a white background with the cars Baja Bruiser, Heavy Chevy & P-917 Flying off the card. The Card itself was 7" x 4.5"
Versions
This '74 Heavy Chevy has come out in the following 1/64 scale versions:
| Year | Series | Color | Tampo | Base Color / Type | Window Color | Interior Color | Wheel Type | Toy # | Country | Notes / Variations | Photo |
| --- | --- | --- | --- | --- | --- | --- | --- | --- | --- | --- | --- |
| 1974 | Flying Colors | Enamel Yellow | Magenta,Red,Orange Sunburst on sides "7" | Metal | Blue tint | Black | RL2 | 7619 | HK | | |
| 1974 | Flying Colors | Enamel Lt. Green | Magenta,Red,Orange Sunburst on sides "7" | Metal | Blue tint | Black | RL2 | 7619 | HK | Alt. Color | |
| 1976 | Super Chromes | Chrome | Magenta,Red,Orange Sunburst on sides "7" | Metal | Blue tint | Black | RL2 | 7619 | HK | | |
| 1977 | Super Chromes | Chrome | Dark Green,Green,Yellow Sunburst on sides "7" | Metal | Blue tint | Black | RL2 | 7619 | HK | | |
| 1977 | Super Chromes | Chrome | Dark Green,Green,Yellow Sunburst on sides "7" | Metal | Blue tint | Black | BW | 7619 | HK | | |
Similar Casting and Names
1970 Spoiler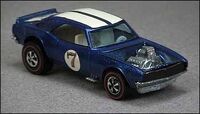 1970 Club Kit Car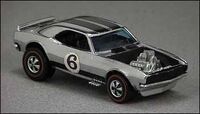 Heavy Chevy Club Kit Car (1970)
Gallery