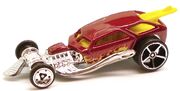 This is a set which debuted in 2011 to coincide with the "Hot Wheels Racing Circuit" Online game. Each car features a code in the packaging that allows the car to be raced and customized within the game. It is unknown if or when these cars will be made available within the game outside of the use of these codes. Also, if codes from 5 or more "Video Game Heroes" cars are entered into the site, bonus credits are earned within the game.
HW Video Game Heroes
Ad blocker interference detected!
Wikia is a free-to-use site that makes money from advertising. We have a modified experience for viewers using ad blockers

Wikia is not accessible if you've made further modifications. Remove the custom ad blocker rule(s) and the page will load as expected.