Ad blocker interference detected!
Wikia is a free-to-use site that makes money from advertising. We have a modified experience for viewers using ad blockers

Wikia is not accessible if you've made further modifications. Remove the custom ad blocker rule(s) and the page will load as expected.
The casting of this Gun Slinger is very similar to the casting for the Grass Hopper of 1971. The chief differences being that this model omits the hole in the hood for a blown engine to show through like it did in the earlier vehicle and the windshield is now just a frame and part of the interior piece. It has a huge, swivelling gun mounted in the rear and sticking out well past the front of the vehicle.
Versions
The Gun Slinger has come out in the following versions:
| Year | Series | Color | Tampo | Base Color / Type | Window Color | Interior Color | Wheel Type | Toy # | Country | Notes / Variations | Photo |
| --- | --- | --- | --- | --- | --- | --- | --- | --- | --- | --- | --- |
| 1975 | Flying Colors | Olive | White "Army" tampo on hood | Black / Plastic | N/A | Black | RL | 7664 | Hong Kong | No clip on windshield for gun | |
| 1976 | Flying Colors | Olive | White "Army" tampo on hood | Black / Plastic | N/A | Black | RL | 7664 | Hong Kong | Clip on windshield to hold gun | |
| 1977 | Flying Colors #29 | Olive | White "Army" tampo on hood | Black / Plastic | N/A | Black | BW | 7664 | Hong Kong | Clip on windshield to hold gun | |
Similiar Castings
1970 Spectraflame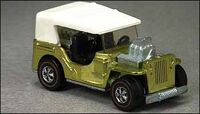 1974 Flying Colors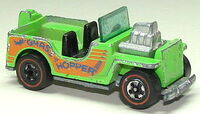 Mountain Goat (2010)
Gallery