Grass Hopper Description
The Grass Hopper released in 1974 is  a  reissue of the cast Grass Hopper (1971), with major changes. The Cast lost the rear motor and canvas canopy, released in Enamel paint and with a large motor in front. A major change to the body removing all of the miner's tools that were part of the old body and Tampo's were added to the sides . Odd history with all that retooling of the casting. The very next year was the last we would see of the Grass Hopper, not before another casting change with the loss of the front motor. Aww but what other cast shows up in the line up? The Gun Slinger without the motor.
The blister pack for 1974 was changed to a white back ground with cars (Baja Breaker,Heavy Chevy & P-917) Flying off the card. The Card itself was 7" x 4.5"
Versions
The Grass Hopper has come out in the following 1/64 scale versions:
| Col # | Year | Series | Color | Tampo | Base Color | Window Color | Interior Color | Wheel Type | Toy # | Country | Notes / Variations | Photo |
| --- | --- | --- | --- | --- | --- | --- | --- | --- | --- | --- | --- | --- |
| | 1974 | Flying Colors | Enamel Green | Orange, Blue "Grass Hopper" on sides | Unpainted / Metal | Clear | Black | RL | 7622 | Hong Kong | | |
| | 1975 | Flying Colors | Enamel Green | Orange, Blue "Grass Hopper" on sides | Black / Plastic | Clear | Black | RL | 7622 | Hong Kong | | |
Similar Castings
Grass Hopper (1970)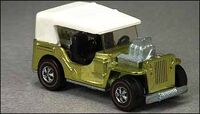 Gun Slinger (1975)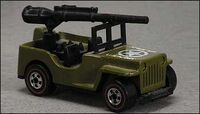 Mountain Goat (2010)
Gallery