Ad blocker interference detected!
Wikia is a free-to-use site that makes money from advertising. We have a modified experience for viewers using ad blockers

Wikia is not accessible if you've made further modifications. Remove the custom ad blocker rule(s) and the page will load as expected.
Goodyear Blimp Description
First released into the 1991 regular line-up, as Goodyear Blimp. This advertising promotion became a success in a instant. With the ability to ad slogans or anything a customer wants it to say.
As shown in the picture above, the tail can be rotated by hand to reveal two different messages on a side of the blimp. For example, the Top Speed GT blimp is just shown with the logo (that cannot be rotated). When removed from packaging, the tail rotated by hand and the side reads "HI MOM", but when the tail is rotated again it shows the current Hot Wheels logo.
Although Good Year separates there name with there foot logo Hot Wheels spelled it out as one word.
Versions
The Goodyear Blimp has come out in the following 1/64 scale versions:
| Col # | Year | Series | Blimp Color | Tampo | Gondola Color | Toy # | Country | Notes / Variations | Photo |
| --- | --- | --- | --- | --- | --- | --- | --- | --- | --- |
| 194 | 1991 | Hot Wheels | Gray | Fixed side - Blue & yellow "Good Year"Spin side - Red & yellow HW logo And Black "good year #1 in tires" | White | 2270 | Malaysia | | |
| N/A | 1992 | Good Year Promo | Gray | "The Best Tires in The World" | White | 5518 | Malaysia | Avalible At Good Year Stores | |
| N/A | 1994 | Blimp & Support Team | Gray | | Silver | 2270 | Malaysia | 5-Pack | |
| N/A | 1997 | City Action | Gray | | Silver | 2270 | Malaysia | 5-Pack | |
Similar Casting and Names
1994 Hot Wheels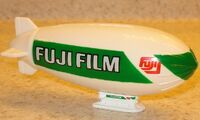 1997 Hot Wheels
Gallery