Ad blocker interference detected!
Wikia is a free-to-use site that makes money from advertising. We have a modified experience for viewers using ad blockers

Wikia is not accessible if you've made further modifications. Remove the custom ad blocker rule(s) and the page will load as expected.
Fright Cars are a series of Exclusive Cars on a single card, from Wal-Mart, that started in 2006. Then in 2007 Target had their own Exclusive 5 Pack set to add to the series, or also known as the Fright Cars 5-Pack / Gift Pack set, and Target Exclusive Gift Pack was called Scary Cars 5-Pack in 2008. Even before 2006 Mattel had a series called Halloween Highway Series that started in 2002 - 2004 that was a 2 car pack. After 2005 the team at Hot Wheels saw the demand of bringing back the series to the Hot Wheels collector again in 2006.
In 2008, as part of a Wal-Mart Exclusive, Hot Wheels added a twist for the collector again, by adding the Chase Car into the Fright Car Series only on a single card 8 car set. The Chase Car for 2008 is called Invisible Phastasm, it makes it's second debut in this series. The first was in 2006 Fright Cars Series, and this time around it makes a great come back for the Chase Car. The Invisible Phastasm is an all clear plastic car, just leaving the rim of the OH5 Chrome and the axles to only have Metal.
2006 Fright Cars Series
Single cards
2007 Fright Cars Series
Single cards and also this set had Real Rider wheels
This is a list of the Target brand of the 5 Car Pack, and the Zombot was not part of the Target Exclusive set, only leaving 7 cars, and in order to get all 7 cars, you had to buy 2 sets.
2008 Fright Cars Series
Single cards
2008 Scary Cars 5-Pack
This is a list of the Target brand of the 5-Pack "only".
2009 Fright Cars Series
Single cards
2009 Scary Cars 5-Pack
Target Exclusive 5-Pack
2010 Fright Cars Series
Single Cards

Toy #: V8296 - Store: Target
Ettorium - Cloak and Dagger - Fangster - Rigor Motor - Double Demon
2012 Happy Halloween! Cars
Single cards
There are, at least, 3 variants of this 5-Pack with the middle 3 cars being different combinations. These cars are the same as the 2012 basic car releases and do not have special Halloween-themed decoration: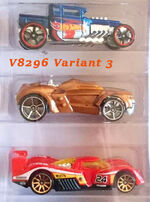 Toy #: V8296-0911 - Store: Target
Shell Shock / Bone Shaker / 24 Ours / Growler / Skull Crusher / Vampyra
2013 Happy Halloween! Cars
Single cards
2014 Happy Halloween! Cars
Single cards
2015 Happy Halloween! Cars
Single cards
| Toy # | # in Series | Series Name | Casting | Store Names | Photo |
| --- | --- | --- | --- | --- | --- |
| CFV06 | 1/4 | Happy Halloween! | Hi I.Q. | Kroger & Kmart | |
| CFV07 | 2/4 | Happy Halloween! | 16 Angels | Kroger & Kmart | |
| CFV08 | 3/4 | Happy Halloween! | Screamliner | Kroger & Kmart | |
| CFV08 | 4/4 | Happy Halloween! | What-4-2 | Kroger & Kmart | |
2016 Happy Halloween! Cars
Single cards
| Toy # | # in Series | Series Name | Casting | Store Names | Photo |
| --- | --- | --- | --- | --- | --- |
| DJM39 | 1/8 | Happy Halloween! | Bone Shaker | Kroger & Walgreens | |
| DJM40 | 2/8 | Happy Halloween! | Audacious | Kroger & Walgreens | |
| DJM41 | 3/8 | Happy Halloween! | Deora II | Kroger & Walgreens | |
| DJM42 | 4/8 | Happy Halloween! | Dieselboy | Kroger & Walgreens | |
| DWY54 | 5/8 | Happy Halloween! | Blvd. Bruiser | Kroger & Walgreens | |
| DWY55 | 6/8 | Happy Halloween! | 16 Angels | Kroger & Walgreens | |
| DWY56 | 7/8 | Happy Halloween! | Ryura LX | Kroger & Walgreens | |
| DWY57 | 8/8 | Happy Halloween! | Vandetta | Kroger & Walgreens | |
Gallery