Ad blocker interference detected!
Wikia is a free-to-use site that makes money from advertising. We have a modified experience for viewers using ad blockers

Wikia is not accessible if you've made further modifications. Remove the custom ad blocker rule(s) and the page will load as expected.
The 2007 Fright Cars 5-Pack featured 5 castings with Halloween graphics. Below are the 7 castings that could be found in this 5-Pack.
For all the Halloween Fright Cars check out the Fright Cars Series page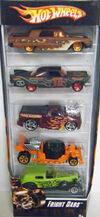 Vehicles
The Following Castings were in the Rock 'N' Road 5-Pack (#L7883):
| Casting Name | Body Color | Base Color | Window Color | Interior Color | Wheel Type | Country | Notes | Photo |
| --- | --- | --- | --- | --- | --- | --- | --- | --- |
| '58 Thunderbird | Flat Brown | Black / Plastic | Orange tint | Orange | Orange LW | Thailand | | |
| '57 Plymouth Fury | Flat Black | Grey / Plastic | Red Tint | Black | Red 5SP | Thailand | | |
| Ford Lightning | Metalflake Burgundy | Black / Plastic | Black | unseen | PR5 | Thailand | | |
| Hot Tub | Orange | Unpainted / Metal | (water) Green | Brown | Orange 5SP | Thailand | (image missing tampo) | |
| '35 Cadillac | Neon Green | Unpainted / Metal | Yellow tint | Black | LW | Thailand | | |
| Low Carbs | Metalflake Red | | | | | | | |
| Fright Bike | Translucent Red | | | | | | | |