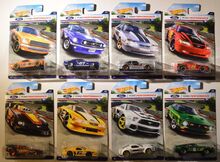 Ford Performance Series
The Ford Performance Series features 8 different Ford models that were launched in March 2016 that pay homage to Ford's racing heritage from the 1960's to present day. This series originally debuted as a Wal-Mart exclusive and is not available through any other retailers.
The Ford Motor Company (commonly referred to as simply "Ford") is an American multinational automaker headquartered in Dearborn, Michigan, a suburb of Detroit. It
was founded by Henry Ford and incorporated on June 16, 1903. The company sells automobiles and commercial vehicles under the Ford brand and most luxury cars under the Lincoln brand. Along with Shelby and Chevrolet, Ford is one of only three American constructors to win titles on the international scene at the FIA World Championships. As a constructor, Ford won the World Sportscar Championship three times in 1966, 1967 and 1968, and the World Rally Championship three times in 1979, 2006 and 2007.
Ad blocker interference detected!
Wikia is a free-to-use site that makes money from advertising. We have a modified experience for viewers using ad blockers

Wikia is not accessible if you've made further modifications. Remove the custom ad blocker rule(s) and the page will load as expected.