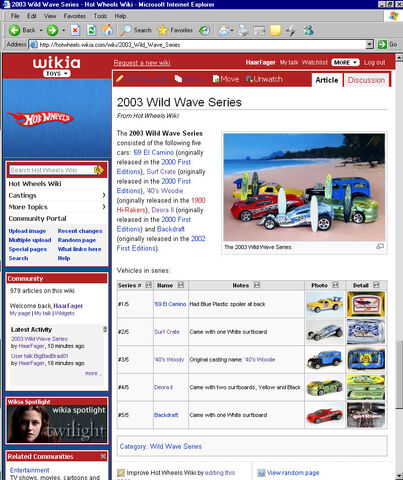 Summary
This is a print screen of the 2003 Wild Wave Series page that I created and what it looks like on my computer. I formatted it specifically so that it would look just like this: The picture of the group of vehicles on the right, and the same height as the text that runs along the left side of it. The bottom edge of both is where the table begins and it is all spaced evenly and looks well proportioned. Big Bad Brad adjusted the size of my image because he said it ran into the pictures located in the table below. I wondered what he was talking about, so I changed it back, because it didn't look like that on my computer. Well, I got to thinking why he had said that, so I signed out and looked at the page. When I did, I found that there was some kind of advertisement right where my group shot was supposed to be and it pushed my image straight down, leaving a gap to the left of it with no text - the text that was beside my group shot was now alongside the advertisement in the same manner - and the words that prefaced the table "Vehicles in series:" which followed right under the text was still right under the text, but it was well above the table where it was meant to be. My group image was down in no man's land just above the table and on the right-hand side of the column.
What can be done about this issue so that when I take the extra time to see that everything is spaced just right, it still comes out incorrectly on every body else's computer? I'm sure it's very frustrating for anyone that knows about this issue. Has anybody found a way around it or can that advertisement not be moved somewhere else? It really ruins the flow of some pages. I don't think I want to take all that time to create and adjust pages that won't end up looking like they do on my computer on anyone else's computer. I mean, what's the point of spacing or formatting things, if you're not actually allowed to see the correct spacing or formatting while you're working on it?
This printscreen photo taken by Kenneth Dwain Harrelson and was uploaded on December 4th, 2008.
Licensing:
Appears on these pages

of
Archive of Danny's talk page. Adding A Sound Clip Problem Danny, I'm trying to add a sound byte...

Hello Again, I've noticed User:Julthep has created a plethora of categories for the Tampos...
File history
Click on a date/time to view the file as it appeared at that time.
Ad blocker interference detected!
Wikia is a free-to-use site that makes money from advertising. We have a modified experience for viewers using ad blockers

Wikia is not accessible if you've made further modifications. Remove the custom ad blocker rule(s) and the page will load as expected.