Ad blocker interference detected!
Wikia is a free-to-use site that makes money from advertising. We have a modified experience for viewers using ad blockers

Wikia is not accessible if you've made further modifications. Remove the custom ad blocker rule(s) and the page will load as expected.
Ferrari 312P Flying Colors Description
The Ferrari 312P carried over to the regular line-up for 1974 and see the new Flying Colors tampo theme. Issued only in red with Ferrari's famous emblem tampo'd on it's side. Early versions can be found with capped redline rear wheels.
Versions
This Ferrari 312P has come out in the following 1/64 scale versions:
| Col # | Year | Series | Color | Tampo | Base Color / Type | Interior Color | Wheel Type | Toy # | Country | Notes / Variations | Photo |
| --- | --- | --- | --- | --- | --- | --- | --- | --- | --- | --- | --- |
| | 1974 | Flying Colors | Enamel Red | White & Blue "30" Stripes | Metal | Black | Redline | 6973 | Hong Kong | Capped Rear | |
| | 1974 | Flying Colors | Enamel Red | White & Blue "30" Stripes | Metal | Black | Redline | 6973 | Hong Kong | | |
| | 1976 | Flying Colors | Enamel Red | White & Blue "30" Stripes | Plastic / Black | Black | Redline | 6973 | Hong Kong | | |
| | 1977 | Flying Colors | Enamel Red | White & Blue "30" Stripes | Plastic / Black | Black | Blackwall | 6973 | Hong Kong | | |
Similiar Castings
Ferrari 312P (1973)
Ferrari 312P (1970)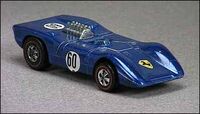 Gallery