Ad blocker interference detected!
Wikia is a free-to-use site that makes money from advertising. We have a modified experience for viewers using ad blockers

Wikia is not accessible if you've made further modifications. Remove the custom ad blocker rule(s) and the page will load as expected.
Ferrari 312P
Debut Series
1973
Produced
1973
Designer
Ira Gilford
Number
6973
Ferrari 312P Description
Ferrari 312P was part of the regular line-up of 1973.Issued with the new enamel paint. Generally found with capped rear wheels and straight axles in the front. Cost saving measures by Mattel also removed the windshield. The stickers were applied by the factory. This was only released from Hong Kong.
Versions
This Ferrari 312P has come out in the following 1/64 scale versions:
| Year | Series | Color | Sticker | Base Color / Type | Interior Color | Wheel Type | Toy # | Country | Notes / Variations | Photo |
| --- | --- | --- | --- | --- | --- | --- | --- | --- | --- | --- |
| 1973 | 1973 | Dk. Enamel Blue | White #60 | Metal | Black | Redline | 6973 | Hong Kong | | |
| 1973 | 1973 | Enamel Fluorescent Lime green | White #60 | Metal | Black | Redline | 6973 | Hong Kong | with raised door lines | |
| 1973 | 1973 | Enamel Fluorescent Pink | White #60 | Metal | Black | Redline | 6973 | Hong Kong | with raised door lines | |
| 1973 | 1973 | Enamel Yellow | White #60 | Metal | Black | Redline | 6973 | Hong Kong | with raised door lines | |
| 1973 | 1973 | Enamel Lt. Blue | White #60 | Metal | Black | Redline | 6973 | Hong Kong | with raised door lines | |
| 1973 | 1973 | Enamel Red | White #60 | Metal | Black | Redline | 6973 | Hong Kong | | |
Similiar Castings
Ferrari 312P (1970)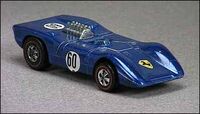 Ferrari 312P (1974)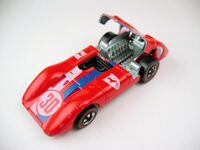 Gallery