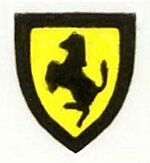 Ferrari is an automobile manufacturer from Italy producing high-end (exotic) sports cars. Hot Wheels has made many different Ferrari models, starting in 1970. On Dec 1, 2014, Ferrari and Mattel has end their licensing agreement.

Ferrari models by casting:
Ad blocker interference detected!
Wikia is a free-to-use site that makes money from advertising. We have a modified experience for viewers using ad blockers

Wikia is not accessible if you've made further modifications. Remove the custom ad blocker rule(s) and the page will load as expected.