Ad blocker interference detected!
Wikia is a free-to-use site that makes money from advertising. We have a modified experience for viewers using ad blockers

Wikia is not accessible if you've made further modifications. Remove the custom ad blocker rule(s) and the page will load as expected.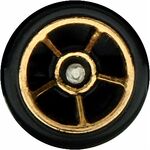 This is a list of Hot Wheels Faster Than Ever vehicles released between 2005-2006 & 2009-2010. To the right is what the Faster Than Ever wheel looks like, or also known as the FTE. The Faster Than Ever wheel is more than just a wheel. Its copper color signifies that the axle on that particular vehicle is nickel-plated. This nickel-plating of the axle creates an extra smooth surface (causing less friction) therefore, making the car faster than its non-nickel-plated counterparts. FTE wheels were brought back in 2009 due to a strong collector demand. These vehicles are sought after by any Hot Wheels Collector that loves to race their vehicles.
2005 Faster Than Ever
| | | | | | | | |
| --- | --- | --- | --- | --- | --- | --- | --- |
| Col. # | Model Name | Year | Series | Series # | Wheel type | Image | 2nd Variation Image / Notes |
| 002 | Mitsubishi Eclipse Concept | 2005 | Realistix 2005 First Editions | #2 | FTE | | None |
| 005 | 1969 Pontiac Firebird T/A | 2005 | Realistix 2005 First Editions | #5 | FTE | | None |
| 006 | 2005 Ford Mustang GT | 2005 | Realistix 2005 First Editions | #6 | FTE | | None |
| 009 | Firestorm | 2005 | Realistix 2005 First Editions | #9 | FTE | | None |
| 010 | Acura HSC Concept | 2005 | Realistix 2005 First Editions | #10 | FTE | | Gray Base |
| 011 | Aston Martin V8 Vantage | 2005 | Realistix 2005 First Editions | #11 | FTE | | None |
| 012 | Symbolic | 2005 | Realistix 2005 First Editions | #12 | FTE | | None |
| 013 | Formul8r | 2005 | Realistix 2005 First Editions | #13 | FTE | | None |
| 014 | Bully Goat | 2005 | Realistix 2005 First Editions | #14 | FTE | | |
| 015 | Split Decision | 2005 | Realistix 2005 First Editions | #15 | FTE | | None |
| 016 | Ford Shelby GR-1 Concept | 2005 | Realistix 2005 First Editions | #16 | FTE | | |
| 018 | '69 Pontiac GTO | 2005 | Realistix 2005 First Editions | #18 | FTE | | None |
| 020 | Maserati MC12 | 2005 | Realistix 2005 First Editions | #20 | FTE | | None |
| 021 | Low C-GT | 2005 | Drop Tops 2005 First Editions | #21 | FTE | | None |
| 027 | Mid Drift | 2005 | Drop Tops 2005 First Editions | #27 | FTE | | None |
| 029 | Speed Bump | 2005 | Drop Tops 2005 First Editions | #29 | FTE | | None |
| 037 | Hummer H3 | 2005 | Blings 2005 First Editions | #37 | FTE | | None |
| 045 | Blastous | 2005 | Torpedoes 2005 First Editions | #45 | FTE | | None |
| 046 | Subaru Impreza WRX | 2005 | Torpedoes 2005 First Editions | #46 | FTE | | None |
| 047 | Slider | 2005 | Torpedoes 2005 First Editions | #47 | FTE | | None |
| 049 | Trim TRK | 2005 | Torpedoes 2005 First Editions | #49 | FTE | | None |
| 051 | Ferrari 360 Modena (X-Raycers) | 2005 | X-Raycers 2005 First Editions | #51 | FTE | | None |
| 052 | Paradigm Shift | 2005 | X-Raycers 2005 First Editions | #52 | FTE | | None |
| 053 | Scion xB | 2005 | X-Raycers 2005 First Editions | #53 | FTE | | None |
| 054 | '69 Chevelle (X-Raycers) | 2005 | X-Raycers 2005 First Editions | #54 | FTE | | None |
| 055 | Horseplay | 2005 | X-Raycers 2005 First Editions | #55 | FTE | | None |
| 056 | Stockar | 2005 | X-Raycers 2005 First Editions | #56 | FTE | | None |
| 057 | Phastasm | 2005 | X-Raycers 2005 First Editions | #57 | FTE | | None |
| 058 | Vandetta | 2005 | X-Raycers 2005 First Editions | #58 | FTE | | None |
| 093 | '64 Impala | 2005 | Pin Hedz Series | #3 | FTE | | None |
| 094 | Way-2-Fast | 2005 | Pin Hedz Series | #4 | FTE | | None |
| 098 | 8 Crate | 2005 | Redline Series | #3 | FTE | | None |
| 099 | '65 Pontiac Bonneville | 2005 | Redline Series | #4 | FTE | | None |
| 101 | '71 Plymouth GTX | 2005 | Muscle Mania Series | #1 | FTE | | |
| 103 | '64 Buick Riviera | 2005 | Muscle Mania Series | #3 | FTE | | None |
| 104 | '69 Dodge Charger | 2005 | Muscle Mania Series | #4 | FTE | | None |
| 105 | '65 Impala | 2005 | Muscle Mania Series | #5 | FTE | | |
| 106 | 16 Angels | 2005 | White Heat Series | #1 | FTE | | None |
| 108 | Whip Creamer II | 2005 | White Heat Series | #3 | FTE | | Chrome Base / White Base |
| 116 | Cadillac Sixteen | 2005 | Twenty+ Series | #1 | FTE | | None |
| 118 | Boom Box | 2005 | Twenty+ Series | #3 | FTE | | |
| 137 | Pikes Peak Tacoma | 2005 | 2005 Hot Wheels | #137 | FTE | | White Insert / Unpainted Insert |
| 139 | Meyers Manx | 2005 | 2005 Hot Wheels | #139 | FTE | | Metalflake Silver / Need Image |
| 140 | 2001 Mini Cooper | 2005 | 2005 Hot Wheels | #140 | FTE | | None |
| 142 | Volkswagen New Beetle Cup | 2005 | 2005 Hot Wheels | #142 | FTE | | None |
| 143 | Steel Flame | 2005 | 2005 Hot Wheels | #143 | FTE | | None |
| 146 | Dodge Viper GTS-R | 2005 | 2005 Hot Wheels | #146 | FTE | | None |
| 150 | What-4-2 | 2005 | 2005 Hot Wheels | #150 | FTE | | None |
| 151 | Evil Twin | 2005 | 2005 Hot Wheels | #151 | FTE | | None |
| 154 | '47 Chevy Fleetline | 2005 | 2005 Hot Wheels | #154 | FTE | | None |
| 159 | Off Track | 2005 | 2005 Hot Wheels | #159 | FTE | | None |
| 163 | Lotus Sport Elise | 2005 | 2005 Hot Wheels | #163 | FTE | | None |
| 169 | La Troca | 2005 | 2005 Hot Wheels | #169 | FTE | | None |
| 171 | '69 El Camino | 2005 | 2005 Hot Wheels | #171 | FTE | | None |
| 174 | Mitsubishi Eclipse ('Tooned) | 2005 | 2005 Hot Wheels | #174 | FTE | | None |
| 175 | C6 Corvette | 2005 | 2005 Hot Wheels | #175 | FTE | | None |
| 177 | 2001 B Engineering Edonis | 2005 | 2005 Hot Wheels | #177 | FTE | | None |
| 179 | Ford Anglia | 2005 | 2005 Hot Wheels | #179 | FTE | | None |
2006 Faster Than Ever