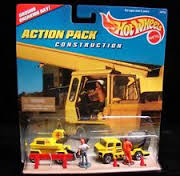 Construction: Action Pack
is one of the Hot Wheels Action Packs.
Plot
This Action Pack includes two construction vehicles, a cement truck and an excavator, two construction worker figures, a construction fence and two traffic cones. The cement truck has the Hot Wheels logo on it's barrel, while instead of caterpillar wheels, the excavator has regular wheels instead.
Gallery