Ad blocker interference detected!
Wikia is a free-to-use site that makes money from advertising. We have a modified experience for viewers using ad blockers

Wikia is not accessible if you've made further modifications. Remove the custom ad blocker rule(s) and the page will load as expected.
Description
The Classic Nomad was a car in the 1970 Hot Wheels series, based on the 1955 Chevrolet Nomad, part of Chevy's top-of-the-line Bel-Air series.
All versions were issued with clear windows, a white interior, cap-style wheels, and an unpainted metal base with a USA manufacturing location.
Versions
The Classic Nomad has come out in the following 1/64 scale versions:
Retooled Versions
After being out of the line-up for 13 years the '55 Chevy Nomad was retooled for the 1991 "California Customs" series. It was named either the '55 Nomad or Classic Nomad depending on what series it was released in.
Versions
The retooled '55 Nomad has come out in the following 1/64 scale versions:
Col #
Year
Series
Color
Tampo
Base Color / Type
Window Color
Interior Color
Wheel Type
Toy #
Country
Notes / Variations
Photo
1991
California Customs
Flour Orange
Yellow, Green, Blue & Pink tampos
Unpainted / Metal
Clear
Yellow
TW
Malaysia
Released as '55 Nomad
1993
Limited Edition
Metalflake Purple
Yellow, Green & Red lightning bolts
Unpainted / Metal
Tinted (Blue)
Red
WW
Malaysia

Limited to 6,000

Released as '55 Nomad

1993
Limited Edition
Metalflake Purple
Yellow, Green & Red lightning bolts
Unpainted / Metal
Tinted (Blue)
Red
Good Year, Grey DDRR
Malaysia

Limited to 6,000

Released as '55 Nomad

N/A
1993
Vintage Series
Metalflake Aqua
No tampos
Unpainted / Metal
Tinted (Blue)
White
RL
5743
China
N/A
1993
Vintage Series
Metalflake Magenta
No tampos
Unpainted / Metal
Tinted (Blue)
White
RL
5743
China
N/A
1993
Vintage Series
Metalflake Orange
No tampos
Unpainted / Metal
Tinted (Blue)
White
RL
5743
China
N/A
1993
Vintage Series 8-Pack
Metalflake Lavender
No tampos
Unpainted / Metal
Tinted (Blue)
White
RL
5743
China
Toys R Us exclusive
N/A
1993
25th Anniversary Series
Metalflake Black
White Hot Wheels logo on rear fender
Unpainted / Metal
Tinted (Blue)
White
RL
5743
China
N/A
1993
25th Anniversary Series
Metalflake Pale Pink
White Hot Wheels logo on rear fender
Unpainted / Metal
Tinted (Blue)
White
RL
5743
China
N/A
1994
FAO Schwarz Gold Series Collection
Metalflake Turquoise
White Hot Wheels logo on top
Unpainted / Metal
Clear
White
RL Gold
5743
China
362
1995
Treasure Hunts10/12
Metalflake Aqua
Red Hot Wheels logo on front windshield
Unpainted / Metal
Clear
Grey
TW
13359
Malaysia
N/A
1996
Bonus Car
Turquoise w/ White roof
No tampos
Unpainted / Metal
Clear
White
BW
China
Mail-order only in baggie
502
1996
1996 Hot Wheels
Metalflake Red
Gold Hot Wheels logo on tailgate
Unpainted / Metal
Clear
Tan
Gold 7SP
15770
Malaysia
Closed steering wheel - variation is open steering wheel
1996
Vintage Race Team Set
Metalflake Blue
Vintage Hot Wheels Race Team logos, "1", Chevy logo, sponsor logos
Unpainted / Metal
Clear
White
Goodyear BW
16139
China
1996
Real Rods set
Redish-Orange
Gold & Purple flames
Chrome / Metal
Clear
White
5SP
China
Limited Edition from K*B Stores only
1998
JC Whitney Promotional
Turquoise w/ White roof
"JC Whitney" on side
Unpainted / Metal
Tinted (Blue)
White
Goodyear RR
China
1998
JC Whitney Promotional
Yellow w/ White roof
"JC Whitney" on side
Unpainted / Metal
Tinted (Blue)
White
Goodyear RR
China
1998
Turquoise w/ White roof
Hot Wheels logo on side
Unpainted / Metal
Tinted (Blue)
White
Whiteline RR
China
1998
Yellow w/ White roof
Hot Wheels logo on side
Unpainted / Metal
Tinted (Blue)
White
Whiteline RR
China
964
1999
Surf 'N Fun Series
White
Black & Red flames, w/ Gold "Spike" surfboards
Unpainted / Metal
Tinted (Grey)
White
Gold 5SP
Malaysia
964
1999
Surf 'N Fun Series
Lavender
Black & Red flames, w/ Gold "Spike" surfboards
Unpainted / Metal
Tinted (Grey)
White
Gold 5SP
Malaysia
1999
Cop Rods Series 1
White & Black
Police tampos
Unpainted / Metal
Clear
Black
RR
Malaysia
1999
Target V-8 3-Pack
Red
White & yellow flames
Unpainted / Metal
Clear
White
WW
China
2000
Cop Rods Series 2
White & Black
"Sacramento Police" tampos
Unpainted / Metal
Clear
Gold Chrome
RR
25371
2000
Hot Wheels.com 5-Pack
Orange
"Hot Wheels.com" on sides & hood
Metalflake Silver / Metal
Clear
White
3SP
China
25371
2000
Hot Wheels.com 5-Pack
Orange
"Hot Wheels.com" on sides & hood
Metalflake Silver / Metal
Clear
White
Gold3SP
China

50036
2001
Skateboarders 5-Pack
Metalflake Green
Black, White, Red and Orange "NOYES Wheels" & "Thumbs up/Thumbs down"
Unpainted / Metal
Tinted (Yellow)
White
PR5
Thailand
106
2002
Red Lines Series
Orange
White strip, "Redlines" on side
Unpainted / Metal
Tinted (Black)
Black
RL5SP
54384
Malaysia
2002
100% Preferred GM Performance Parts Series
Red w/ White roof
No tampos
Unpainted / Metal
Clear
White
5-spoke RR
Thailand
4/35
2003
Highway 35 World Race
Metalflake Aqua w/ White roof
Blue "Wave Rippers", wave tampos
Unpainted / Metal
Tinted (Black)
White
Blue-rim, White CM5
B0893
N/A
2004
Smashville 5-Pack
Matte Blue

"Prototype" on front fender, Yellow, Pink & White "Crash Dummies" on side, radio active symbol, Hot Wheels logo & "822" on sides

Unpainted / Metal
Tinted (Orange)
White
5SP
B3617
China
1/4
2004
2004 RLC sELECTIONs Series #1
Spectraflame Red
Red & Yellow flames
Clear
RLDDRR
16 / 25
2005
Hot Wheels Classics - Series 1 2005
Spectraflame Green & White
White stripes on sides, Silver stripes on rear
Unpainted / Metal
Clear
Milky White
Whiteline 5SP
Thailand
16 / 25
2005
Hot Wheels Classics - Series 1 2005
Spectraflame Red & White
White stripes on sides, Silver stripes on rear
Unpainted / Metal
Clear
Milky White
Whiteline 5SP
H7081
Thailand
16 / 25
2005
Hot Wheels Classics - Series 1 2005
Spectraflame Purple & White
White stripes on sides, Silver stripes on rear
Unpainted / Metal
Clear
Milky White
Whiteline 5SP
Thailand
16 / 25
2005
Hot Wheels Classics - Series 1 2005
Spectraflame Pink & White
White stripes on sides, Silver stripes on rear
Unpainted / Metal
Clear
Milky White
Whiteline 5SP
Thailand
16 / 25
2005
Hot Wheels Classics - Series 1 2005
Spectraflame Brown (Root Beer) & White
White stripes on sides, Silver stripes on rear
Unpainted / Metal
Clear
Milky White
Whiteline 5SP
Thailand
16 / 25
2005
Hot Wheels Classics - Series 1 2005
Spectraflame Blue & White
White stripes on sides, Silver stripes on rear
Unpainted / Metal
Clear
Milky White
Whiteline 5SP
Thailand
16 / 25
2005
Hot Wheels Classics - Series 1 2005
Spectraflame Black & White
White stripes on sides, Silver stripes on rear
Unpainted / Metal
Clear
Milky White
Whiteline 5SP
Thailand
2007
Super Chromes 10-Pack Tin
Chrome
RL5SP
2007
Since '68 Series #20 of 40
Metalflake Gray
Red & Black stripes
Unpainted / Metal
Black
N/A
RL
L2833
Malaysia
N3254
2008
Father's Day Kmart exclusive
Olive Green
Light Olive, Black & Gold tampos w/ "Big Daddy's Tackle Box" on sides
Unpainted / Metal
Clear
Black
White & Black OH5
4/5
Malaysia
125
2009
Heat Fleet Series #9/10
Dark Blue
Red, Orange & White flame tampos on sides & hood
Chrome / Plastic
Tinted (Red)
Black
OH5
P2445
Malaysia
Also with Metal base
N/A
2009
Hot Wheels 10-Pack Exclusive
Metalflake Silver
Red, Silver & White flame tampos on sides & hood
Chrome / Plastic
Tinted (Red)
Black
White-rim, Black OH5
N/A
Malaysia
Only available in 10-Pack
125
2009
Heat Fleet Series #9/10
Dark Pearl Yellow
Black, Orange & Silver flame tampos on sides & hood
Chrome / Plastic
Tinted (Black)
Black
5SP
P2445
Malaysia
2009
Hot Wheels Delivery
Dark Blue
Light Blue & Yellow tampos, White "WackOwax" & "Wax / Lips" on sides & hood
Unpainted / Metal
Tinted (Red)
Black
5SP
P8577
Malaysia
1/4
2009
RLC Rewards
Spectraflame Orange w/ Chrome top
RLC logos
Chrome / Metal
Clear
Light Beige
Neo-Classic WW
P9091
Thailand
1 of 5,972
167
2010
Hot Auction 9/10
Metallic Dark Red
Light & trim details
Chrome / Plastic
Tinted (Black)
Light Grey-Tan
5SP
R7592
Malaysia
Base Code(s): C47
167
2010
Hot Auction 9/10
Turquoise
Silver stripes on sides, painted taillights
Chrome / Plastic
Clear
White
5SP
R7592
Malaysia
Kmart exclusive color 11/6/2010
167
2010
Hot Auction 9/10
Dark Metallic Orange
Light & trim details
Chrome / Plastic
Tinted (Black)
Tan
5SP
R7592
Malaysia
Base Code(s): C33
219
2013
HW Showroom / Heat Fleet
Metalflake Purple
Blue, Orange, Yellow & White flames
Chrome / Plastic
Clear
Tan
5SP
X1795
Malaysia
Base Code(s): E36
219
2013
HW Showroom / Heat Fleet
ZAMAC
Blue, Orange & Yellow flames
Chrome / Plastic
Tinted (Blue)
Blue
5SP
X2041
Malaysia
Base Code(s): E32 Walmart exclusive
12/21
2015
HW Road Trippin' Series
Metalflake Olive Green w/ Yellow Roof
"KANGAROO CROSSING", "GREAT OCEAN ROAD", "100"
Chrome / Plastic
Tinted
Black
Yellow 5SP
DFL44
Malaysia
Base Code(s): H07, Walmart exclusive
2016
Pack 5 muscle mania
Red
flames and logo "HW" to the sides
Chrome/

plastic

transparent
Yelow
Gold

5SP

Malaysia
Base code J04
Gallery (Original Casting)
Gallery (Retooled Version)
Similar Castings or Names
Alive '55 (1973) Enamel Paint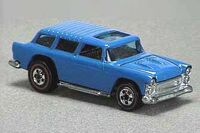 Alive '55 (1974) Flying Colors