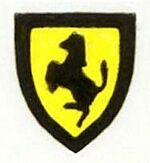 Ferrari is an automobile manufacturer from Italy producing high-end (exotic) sports cars. Hot Wheels has made many different Ferrari models, starting in 1970. The licensing agreement with Ferrari ended on December 31, 2014; it has been mutually decided to not renew the agreement.
See Also
2004 Segment Category:Ferrari Heat Series
Pages in category "Ferrari Cars"
The following 54 pages are in this category, out of 54 total.
4

E

F

F cont.

F cont.

L

R

S

T