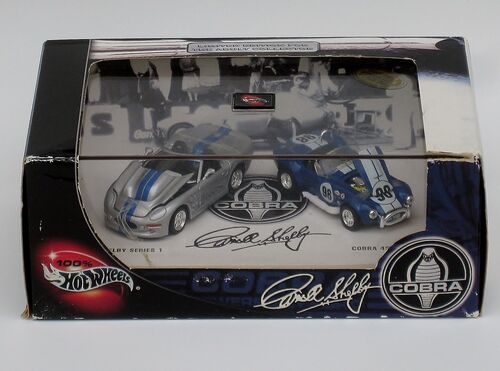 No other racecar driver, designer and builder has had such a powerful influence on the history of the sports car than Carroll Shelby. Nurturing the idea of developing an inexpensive American sports car, Shelby designed a vehicle with a light sports car chassis, powered by an American V8 engine. Known as the Cobra, his car set the tone for the '60's Muscle Car era and became an instant legend.
With the introduction of his new Series 1 sports car, Carroll Shelby continued his tradition of creating vehicles possessing undeniable charisma and all-but-unbeatable performance. We are proud to honor Carroll Shelby and salute his immeasurable impact on the automotive industry through the design, engineering and building of legendary Shelby sports cars.
Vehicles
The following vehicles were included in the Carroll Shelby Cobra 2-Car Set:
Gallery
Ad blocker interference detected!
Wikia is a free-to-use site that makes money from advertising. We have a modified experience for viewers using ad blockers

Wikia is not accessible if you've made further modifications. Remove the custom ad blocker rule(s) and the page will load as expected.