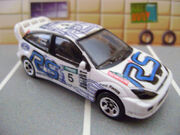 Bruce Baur is a Hot Wheels designer who retired. His Best Known Designs are
Power Pipes, Rigor Motor, Silhouette II, Splittin' Image II, Twin Mill II (1993), Shadow Jet II, Way 2 Fast, Twang Thang and Lexus SC400.
One of Bruce's most recent designs is Way 2 Fast, He desiged 1993-1997. Bruce was good friend with Phil Riehlman, Bruce came back in 2014 with the Rigor Motor design and Power Pipes in tom & Jerry Series.