Description
This was the very first time Mattel offered a Hot Wheels Club and there were 3 mail in only chrome cars. They Club Kit Cars are Heavy Chevy , Boss Hoss Silver Special , King Kuda . Why the others never got a special name? Collector's have just called them " The Club Kit Cars" makes sence.
Spectraflame painted Heavy Chevy and King Kuda cars were already part of the 1970 lineup, and The Boss Hoss was later released as a main line car in 1971.
All three had black-stripes and assorted numbers on the door.
Came with either black or white interior.
All the Club Kit Cars
Please click link to see all of the club kit cars
Boss Hoss Silver Special
Versions
This Hot Wheels vehicle has come out in the following 1/64 scale versions:
| Year | Series | Color | sticker | Base Color / Type | Window Color | Interior Color | Wheel Type | Cast # | Country | Notes / Variations | Photo |
| --- | --- | --- | --- | --- | --- | --- | --- | --- | --- | --- | --- |
| 1970 | Club Kit | Chrome | Blk Stripes | Metal / Chrome | Blue tint | Black | RL | | Hong Kong | | |
| 1970 | Club Kit | Chrome | Blk Stripes | Metal / Chrome | Blue tint | White | RL | | Hong Kong | | |
Similar Casting
1971 Spoiler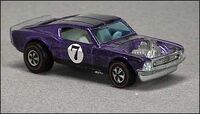 1975 Flying Colors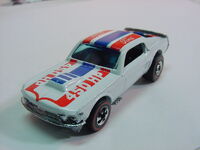 Gallery