Note: For the motorcycle named Boss Hoss, see Boss Hoss Motorcycle.
Description
The Boss Hoss is a modified version of the 1968 Custom Mustang which debuted in the 1971 Hot Wheels Spoilers Series. It features front and rear spoilers, an exaggerated rake to accommodate larger rear wheels and an exposed blown engine.
This is not the first time the Boss Hoss was used, it came out the year prior (1970) in a 'Club Kit', a mail-in promotion for Hot Wheels collectors to be a part of the 'Hot Wheels Club' and receive a certificate and a special chrome plated car; either the King Kuda, Heavy Chevy or Boss Hoss. The Boss Hoss Silver Special, as it was called, was chrome plated and featured black painted details on the rear. 
The Boss Hoss could be found in stores in 1971 and was painted in various Spectraflame colors with some having a black painted roof. Some cars have been found in what's called an 'Over-Chrome' finish, where leftover chrome cars from the Club Kit were painted Spectraflame colors over the chrome giving the cars an extra shiny mirror finish.
1971 versions had a white circle sticker on either door with a number from 1 to 9 and two black stripes over the top, it also came packaged with a sheet of sponsors stickers to be applied by the owner if they wished. It came with blue tinted windows and either a white, silver or dark brown interior. It was also packaged with a metal 'Collectors Button'.
In 1975 it would be released without the blown motor and renamed Mustang Stocker, this casting was used until 1984.
In 2005 it was re-tooled for the HotWheelsCollectors.com Series 4 and has been released several times since.
1970 Chrome 'Club Kit/Silver Special' Versions
The Boss Hoss has come out in the following 1/64 scale versions:
| Year | Series | Color | Sticker | Base Color | Window Color | Interior Color | Wheel Type | cast # | Country | Notes | Photo |
| --- | --- | --- | --- | --- | --- | --- | --- | --- | --- | --- | --- |
| 1970 | 1971 Hot Wheels Club Kit | Chrome | Two Black Stripes, White Circle and number 1-9 | Unpainted / Metal | Tinted (Blue) | White, Silver or Dark Brown | RL | 6499 | Hong Kong | | |
1971 Versions
The Boss Hoss has come out in the following 1/64 scale versions:
| Year | Series | Color | Sticker | Base Color | Window Color | Interior Color | Wheel Type | cast # | Country | Notes | Photo |
| --- | --- | --- | --- | --- | --- | --- | --- | --- | --- | --- | --- |
| 1971 | 1971 Hot Wheels Spoilers | Spectraflame Blue | Two Black Stripes, White Circle and number 1-9 | Unpainted / Metal | Tinted (Blue) | White, Silver or Dark Brown | RL | 6499 | Hong Kong | | |
| 1971 | 1971 Hot Wheels Spoilers | Spectraflame Aqua | Two Black Stripes, White Circle and number 1-9 | Unpainted / Metal | Tinted (Blue) | White, Silver or Dark Brown | RL | 6499 | Hong Kong | | |
| 1971 | 1971 Hot Wheels Spoilers | Spectraflame Green | Two Black Stripes, White Circle and number 1-9 | Unpainted / Metal | Tinted (Blue) | White, Silver or Dark Brown | RL | 6499 | Hong Kong | | |
| 1971 | 1971 Hot Wheels Spoilers | Spectraflame Olive | Two Black Stripes, White Circle and number 1-9 | Unpainted / Metal | Tinted (Blue) | White, Silver or Dark Brown | RL | 6499 | Hong Kong | | |
| 1971 | 1971 Hot Wheels Spoilers | Spectraflame Orange | Two Black Stripes, White Circle and number 1-9 | Unpainted / Metal | Tinted (Blue) | White, Silver or Dark Brown | RL | 6499 | Hong Kong | Hard to Find | |
| 1971 | 1971 Hot Wheels Spoilers | Spectraflame Brown | Two Black Stripes, White Circle and number 1-9 | Unpainted / Metal | Tinted (Blue) | White, Silver or Dark Brown | RL | 6499 | Hong Kong | | |
| 1971 | 1971 Hot Wheels Spoilers | Spectraflame Red | Two Black Stripes, White Circle and number 1-9 | Unpainted / Metal | Tinted (Blue) | White, Silver or Dark Brown | RL | 6499 | Hong Kong | | |
| 1971 | 1971 Hot Wheels Spoilers | Spectraflame Rose | Two Black Stripes, White Circle and number 1-9 | Unpainted / Metal | Tinted (Blue) | White, Silver or Dark Brown | RL | 6499 | Hong Kong | Hard to Find | |
| 1971 | 1971 Hot Wheels Spoilers | Spectraflame Pink | Two Black Stripes, White Circle and number 1-9 | Unpainted / Metal | Tinted (Blue) | White, Silver or Dark Brown | RL | 6499 | Hong Kong | Rare | |
| 1971 | 1971 Hot Wheels Spoilers | Spectraflame Purple | Two Black Stripes, White Circle and number 1-9 | Unpainted / Metal | Tinted (Blue) | White, Silver or Dark Brown | RL | 6499 | Hong Kong | Hard to Find | |
1971 Black Roof Versions
The Boss Hoss has come out in the following 1/64 scale versions:
| Year | Series | Color | Sticker | Base Color | Window Color | Interior Color | Wheel Type | cast # | Country | Notes | Photo |
| --- | --- | --- | --- | --- | --- | --- | --- | --- | --- | --- | --- |
| 1971 | 1971 Hot Wheels Spoilers | Spectraflame Aqua | Two Black Stripes, White Circle and number 1-9 | Unpainted / Metal | Tinted (Blue) | White, Silver or Dark Brown | RL | 6499 | Hong Kong | | |
| 1971 | 1971 Hot Wheels Spoilers | Spectraflame Green | Two Black Stripes, White Circle and number 1-9 | Unpainted / Metal | Tinted (Blue) | White, Silver or Dark Brown | RL | 6499 | Hong Kong | | |
| 1971 | 1971 Hot Wheels Spoilers | Spectraflame Olive | Two Black Stripes, White Circle and number 1-9 | Unpainted / Metal | Tinted (Blue) | White, Silver or Dark Brown | RL | 6499 | Hong Kong | | |
| 1971 | 1971 Hot Wheels Spoilers | Spectraflame Brown | Two Black Stripes, White Circle and number 1-9 | Unpainted / Metal | Tinted (Blue) | White, Silver or Dark Brown | RL | 6499 | Hong Kong | | |
| 1971 | 1971 Hot Wheels Spoilers | Spectraflame Red | Two Black Stripes, White Circle and number 1-9 | Unpainted / Metal | Tinted (Blue) | White, Silver or Dark Brown | RL | 6499 | Hong Kong | | |
| 1971 | 1971 Hot Wheels Spoilers | Spectraflame Purple | Two Black Stripes, White Circle and number 1-9 | Unpainted / Metal | Tinted (Blue) | White, Silver or Dark Brown | RL | 6499 | Hong Kong | Hard to Find | |
1971 Over-Chrome Versions
The Boss Hoss has come out in the following 1/64 scale versions:
| Year | Series | Color | Sticker | Base Color | Window Color | Interior Color | Wheel Type | cast # | Country | Notes | Photo |
| --- | --- | --- | --- | --- | --- | --- | --- | --- | --- | --- | --- |
| 1971 | 1971 Hot Wheels Spoilers | Spectraflame Aqua | Two Black Stripes, White Circle and number 1-9 | Unpainted / Metal | Tinted (Blue) | White, Silver or Dark Brown | RL | 6499 | Hong Kong | | |
| 1971 | 1971 Hot Wheels Spoilers | Spectraflame Blue | Two Black Stripes, White Circle and number 1-9 | Unpainted / Metal | Tinted (Blue) | White, Silver or Dark Brown | RL | 6499 | Hong Kong | | |
| 1971 | 1971 Hot Wheels Spoilers | Spectraflame Red | Two Black Stripes, White Circle and number 1-9 | Unpainted / Metal | Tinted (Blue) | White, Silver or Dark Brown | RL | 6499 | Hong Kong | | |
Retooled Versions
The Boss Hoss has come out in the following 1/64 scale versions:
Col #
Year
Series
Color
Tampo
Base Color
Interior Color
Window Color
Wheel Type
cast #
Country
Notes
Photo
6/6
2005
HWC Series 4
Spectraflame Light Green
White stripes on top and sides with #9 on sides
Chrome / Metal
Black
Clear
Red Line RRPrf
H2928
China

Named: Custom Mustang

11,000 Produced

2006
Convention Charity Car
Silver
Blue Stripes with 'Make A Wish' tampos on sides, 20th Convention logo on roof.  "HWCC 06" California license plate on rear.
Unpainted / Metal
Chrome
Clear
DDRR
K3833
China

Named: Custom Mustang

3,000 Produced

N/A
2008
2008 Red Line Club Membership Car
Chrome
Red stripes with "68" on side, Red and Black "Red Line Club" tampo on roof
Chrome / Metal
Black
Clear
Neo Classic RL
L8676
China
4,000 Produced
N/A
2008
2008 Red Line Club Membership Car
Spectraflame Red
White stripes with "68" on side, Red and Black "Red Line Club" tampo on roof
Chrome / Metal
Black
Clear
Neo Classic RL
L8677
China
5,000 Produced
N/A
2008
2008 Red Line Club Membership Car
Spectraflame Ice Blue
Black stripes with "68" on side, Red and Black "Red Line Club" tampo on roof
Chrome / Metal
Black
Clear
Neo Classic RL
L8678
China
6,000 Produced
N/A
2008
2008 Red Line Club Membership Car
Spectraflame Purple
White stripes with "68" on side, Red and Black "Red Line Club" tampo on roof
Chrome / Metal
Black
Clear
Neo Classic RL
L8679
China
7,000 Produced
3/7
2013
13th Annual Hot Wheels Nationals Convention
Metalflake Blue
Black and Light. Blue stripes, 'Boss Hoss' on sides, convention logo on roof.
Chrome / Metal
Black
Clear

Hoosier RR5SP

Y0592
Thailand
1,000 Produced
2017
31st Annual Hot Wheels Collectors Convention - RLC Party
Spectraflame Pink w/ White Roof
White Stripe on Side
Chrome / Metal
White
Tinted (Light Blue)
RL
FCM61
China
2017
HWC Spoilers Series
Spectraflame Blue w/ Black Roof
'5' on Side
Chrome / Metal
Blue
Tinted (Blue)
RL
DMH88
China
8,000 Produced
Gallery
Similar Castings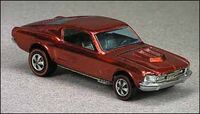 Custom Mustang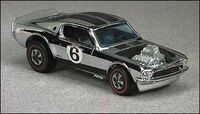 Boss Hoss Silver Special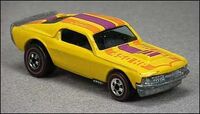 Mustang Stocker


Custom Mustang Convertible