Reissue of the previous version Truckin' Transporter (M8752) with alternate color scheme, and official name "Bone Shaker Racing Team".
The exclusive vehicle returns to the iconic and loved Bone Shaker. With color scheme according to its carrier.
Truckin' Transporter with Exclusive Vehicle
Truckin' Transporter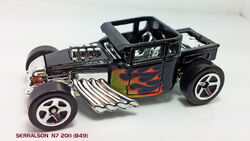 Ad blocker interference detected!
Wikia is a free-to-use site that makes money from advertising. We have a modified experience for viewers using ad blockers

Wikia is not accessible if you've made further modifications. Remove the custom ad blocker rule(s) and the page will load as expected.