Blimp
The tail fins on the blimp can be rotated to reveal two different messages printed on the left side of the blimp.
Also known as the "Goodyear Blimp" (1991-1998), "Flyin' Aces Blimp" (1995 only), "Fuji Blimp" (1995 only), and just plain "Blimp" (1994 to 2008)
Versions
The Blimp has come out in the following 1/64 scale versions:
Col #
Year
Series
Blimp Color
Tampo
Gondola Color
Toy #
Country
Notes / Variations
Photo
249
1994
1994 Hot Wheels
White
Fixed side - Green & Red "Fuji film"Spin side - Green & Red "Fuji film" and Red & Yellow HW logo
White
12341
Malaysia
named Fuji Blimp for this release
332
1995
Photo Finish Series #2
White
Fixed side - multi color Los Angeles city scape

Spin side - Yellow HW logo and Red HW logo

Black
13319
Malaysia
named Flyin' Aces Blimp for this release
587
1997
1997 Treasure Hunts10/12
Blue
Red, Yellow, & White HW logo
White
16684
Malaysia
1074
1999
1999 Hot Wheels
Black
Red
24088
Malaysia
142
2000
Virtual Collection
White
Red
27108
Malaysia
2002
Sports 5-Pack
Brown
"HWSL" "HOT WHEELS SPORTS LEAGUE"
Light Grey
Thailand
Tail does not rotate
2001
Pro Racing 2001
Flour Orange
"32 Tide Racing" Yellow, White and Blue
Flour Orange
Thailand
2001
Pro Racing 2001
Blue
"99 Citgo Racing". White Orange
Orange
Thailand
2001
Pro Racing 2001
Yellow
"17 Dewalt Racing", Black
Black
Thailand
2001
Pro Racing 2001
Blue
"12 Mobil 1 Racing", Red Pagasus.
Red
Thailand
210
2001
Mainline
Gold
"Power Blimp"
Orange
53739
Malaysia
2006
Aerial Attack 5-Pack
Red
"AA" Aerial Attack Logo
Black
J3300
China

Hot Wheels logo. Tail Scrolling.

76
2007
Aerial Attack 4/4
Gray
"HOT AIR SKY SWAMI"
Polished Metal
K7591
Malaysia
2008
Top Speed GT 5-Pack
Gold
Black and White "Top Speed GT" tampos
Polished / Metal
L9969
Malaysia
Gallery
Similar Casting and Names
1991 Hot Wheels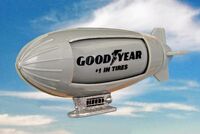 Ad blocker interference detected!
Wikia is a free-to-use site that makes money from advertising. We have a modified experience for viewers using ad blockers

Wikia is not accessible if you've made further modifications. Remove the custom ad blocker rule(s) and the page will load as expected.