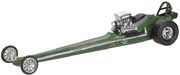 A tragically famous front-engined top-fuel rail dragster - beautifully recreated.
Die-cast wheelbase is 3.16", overall length from nose tip to driver bucket (not including parachute) is 3.89". Front tire size is .37" diameter by .05" wide, slicks are .51" x .25". Wheel radius' are: front .14", rear .14"
Ad blocker interference detected!
Wikia is a free-to-use site that makes money from advertising. We have a modified experience for viewers using ad blockers

Wikia is not accessible if you've made further modifications. Remove the custom ad blocker rule(s) and the page will load as expected.