Ad blocker interference detected!
Wikia is a free-to-use site that makes money from advertising. We have a modified experience for viewers using ad blockers

Wikia is not accessible if you've made further modifications. Remove the custom ad blocker rule(s) and the page will load as expected.
Released in 2012, the Batman 5-Pack has five vehicles based on the 2008 movie The Dark Knight from Batman (DC Comics). Below are the five vehicles that came in this 5-Pack.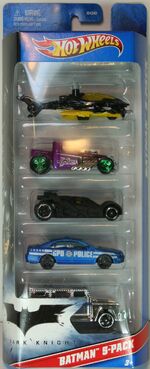 Vehicles
The following castings were in the Batman 5-Pack:
| Casting Name | Body Color | Tampo Color | Base Color + Type | Window Color | Interior Color | Wheel Type | Country | Notes | Photo |
| --- | --- | --- | --- | --- | --- | --- | --- | --- | --- |
| Batcopter | Black | None | Yellow/ Metal | Tinted (Yellow) | Grey | MC1 | Thailand | | |
| | Pearl Magenta | White & Green stripes, 'The Joker' on sides | Grey / Plastic | None | Chrome | Chrome Green 5SP | Thailand | Retooled version of Bone Shaker with the Joker's face as the front of the car instead of the skull | |
| Batmobile (Tumbler) | Matte Black | None | Matte Black / Metal | Tinted (Green) | Chrome | OR6SP in back, OH5 in Front | Thailand | Named The Dark Knight Batmobile | |
| Ford Fusion | Satin Blue | White stripes, 'GPD Police' on sides | Black / Plastic | Tinted (Blue) | Grey | Black PR5 | Thailand | | |
| Armored Truck | Chrome | Black, Blue, Red & Silver tampos, 'Armored Transport' on sides | Unpainted / Metal | Tinted (Blue) | Chrome | Chrome & Black OH5 | Thailand | | |