Ad blocker interference detected!
Wikia is a free-to-use site that makes money from advertising. We have a modified experience for viewers using ad blockers

Wikia is not accessible if you've made further modifications. Remove the custom ad blocker rule(s) and the page will load as expected.
Bassline
Debut Series
AcceleRacers Teku #9
Produced
2005-Present
Designer
Blake Allen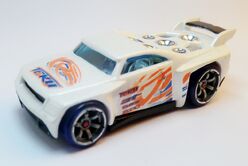 The
Bassline
is a Hot Wheels Original casting and is pronounced "BASE-LINE". It was designed by GM Designer and former classmate of Eric Tscherne, Blake Allen. Bassline is one of the only trucks in Acceleracers. Bassline was driven by Shirako Takamoto in Acceleracers, and was Shirako's only car. This bass generator has a custom carbon fiber body with wide fenders, an air pressure spoiler, front brake outlets for the 4 cylinder caliper 14" slotted rotors on coilovered double wishbone on an aluminum chassis exoskeleton. The car is powered by a turbocharged V8 front engine with performance headers and dual rear exaust, driven by a 7 speed automatic transmission with a 2 way differential. Low profile tires give good drifting characteristics. In the back there are 4 subwoofers, 2 tweeters and 3 additional speakers in the cockpit, capable of producing 700 decibels of 192 bit sound. This car has scissor doors, wireless internet connection and in the interior is a 6.2" monitor, and underglow neon. It tops at 281 mph. Note that the vehicle in the Acceleracers movie is a right-hand drive vehicle.
Versions
The Bassline has come out in the following versions:
| Coll # | Year | Series | Color | Tampo | Base Color | Window Color | Interior Color | Wheel Type | Toy # | Country | Notes | Photo |
| --- | --- | --- | --- | --- | --- | --- | --- | --- | --- | --- | --- | --- |
| N/A | 2005 | 2005 AcceleRacers Series Teku #9 | Pearl White | Blue & Orange Teku Tampos | Black Metal | Dark Blue Tint | Chrome | Chrome-Rimmed, Gray CM6 with Blue Tires | G8094 | Malaysia | | |
| N/A | 2006 | 2006 AcceleRacers Series Teku | Pearl White | Blue & Orange Teku Tampos | Black Metal | Light Blue Tint | Chrome | Chrome-Rimmed, Gray CM6 with Blue Tires | K3281 | Malaysia | | |
| N/A | 2006 | 2006 AcceleRacers Series | Black | Silver & Green Racing Drones Tampos | Unpainted Metal | Green Tint | Chrome | Chrome-Rimmed, Gray CM6 with Green Tires | 7243 | Malaysia | | |
| 116 | 2007 | Track Stars Series #8 | Blue | Red, White & Black Graphics. "T", Star, "TRACK STARS", Black Stripes all on side. | Unpainted Metal | Red Tint | Chrome | Chrome OH5 | K7607 | Malaysia | | |
| 116 | 2007 | Track Stars Series #8 | Black | Red, White & Black Graphics. "T", Star, "TRACK STARS", Black Stripes all on side. | Unpainted Metal | Red Tint | Chrome | Chrome OH5 | K7607 | Malaysia | | |
| 116 | 2007 | Track Stars Series #8 | Black | | Unpainted Metal | | | Chrome 5SP | | Malaysia | | |
| N/A | 2009 | Track Aces 5-Pack | Red | Black & Yellow scallops on side. | Unpainted Metal | Yellow Tint | Gold Chrome | Gold OH5 | N4079 | Thailand | | |
| N/A | 2010 | Color Shifters | Yellow to Red | Red graphics include various lines and "MOBILE ROCK SHOW". Yellow graphics include dots to simulate audio bass. | Unpainted Metal | Dark Blue Tint | Gold Chrome | Gold OH5 | R1129 | Thailand | Base Codes: C06 | |
| N/A | 2011 | Color Shifters | | | Unpainted Metal | | | Gold OH5 | V6731 | Thailand | | |
| N/A | 2012 | Hot Wheels 10-Pack | Blue | Yellow, Black, and White tampos | Unpainted Metal | Green Tint | Chrome | Yellow Rim, Black PR5 | | Malaysia | Base Codes: E23 | |
| | 2012 | Max Steel Urban Storm (Tempestade Urbana) | Chrome | Green, Purple, White & Black, "Max Steel" | Green Metal | Green Tint | Purple | Black OH5, Purple Chrome Rim | X1112 | Thailand | Base Code: E31 | |
| | 2014 | Color Shifters | White to Blue | Blue Arrow Patterns | White | Dark Blue Tint | Chrome | | | | | |
Gallery
External Links