Ad blocker interference detected!
Wikia is a free-to-use site that makes money from advertising. We have a modified experience for viewers using ad blockers

Wikia is not accessible if you've made further modifications. Remove the custom ad blocker rule(s) and the page will load as expected.
Released in 2001, this AutoZone / Duralast Batteries promotional 2-pack contains two cars: the Shredster and the Super Tuned. One of the cars came free with the 2-pack. White the Shredster is a regular 2001 mainline model, the Super Tuned is exclusive to this pack.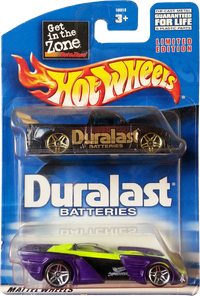 Models
The following models were in the AutoZone / Duralast Batteries 2-Pack:
| Co# | Model Name | Color | Tampo | Base Color/Type | Interior Color | Window Color | Wheel Type | Toy # | Country | Notes | Photo |
| --- | --- | --- | --- | --- | --- | --- | --- | --- | --- | --- | --- |
| - | Super Tuned | Black | Gold 'Duralast Batteries' on sides, Red & Blue HW logo on right side | Black / Plastic | Gold | Tinted (Blue) | Gold PR5 | 56018 | Malaysia | | |
| - | Shredster | Yellow & Purple | Silver HW logo & 'Shredster' on right side | Chrome / Plastic | Black | Tinted (Black) | PR5 | 56018 | China | | |