Ad blocker interference detected!
Wikia is a free-to-use site that makes money from advertising. We have a modified experience for viewers using ad blockers

Wikia is not accessible if you've made further modifications. Remove the custom ad blocker rule(s) and the page will load as expected.
Description
In 1974 the Alive '55 is again reissued but along with all  the 1974 lineup was issued with Enamel paint and the new Flying Colors tampo. The Alive '55  was released with hood that opened, blue tinted windows, metal base and made in Hong Kong.
The blister pack for 1974 was changed to a white back ground with cars Baja Bruiser , Heavy Chevy & P-917 Flying off the card. The Card itself was 7" x 4.5" .
Versions
The Alive '55 has come out in the following 1/64 scale versions:
| Year | Series | Color | Tampo | Base Color / Type | Window Color | Interior Color | Wheel Type | Cast # | Country | Notes / Variations | Photo |
| --- | --- | --- | --- | --- | --- | --- | --- | --- | --- | --- | --- |
| 1974 | Flying Colors | Green | Blue, Yellow and Light Green "Chevrolet" tampos | Unpainted / Metal | Blue tint | Black | RL | 6968 | Hong Kong | | |
| 1974 | Flying Colors | Light Blue | Blue, Yellow and Light Green "Chevrolet" tampos | Unpainted / Metal | Blue tint | Black | RL | 6968 | Hong Kong | | |
| 1976 | Super Chromes | Chrome | Blue, Yellow and Light Green "Chevrolet" tampos | Unpainted / Metal | Blue tint | Black | RL | 9210 | Hong Kong | | |
| 1977 | Super Chromes | Chrome | Blue, Yellow and Light Green "Chevrolet" tampos | Unpainted / Metal | Blue tint | Black | RL | 9210 | Hong Kong | hood cast shut | |
| 1977 | Super Chromes | Chrome | Blue, Yellow and Light Green "Chevrolet" tampos | Unpainted / Metal | Blue tint | Black | BW | 9210 | Hong Kong | hood cast shut | |
| 1978 | Oldies But Goodies | Chrome | Blue, Yellow and Light Green "Chevrolet" tampos | Unpainted / Metal | Blue tint | Black | BW | 9210 | Hong Kong | hood cast shut | |
Similar Castings
Classic Nomad (1970) Spectraflame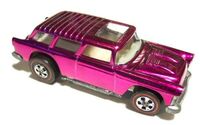 Alive '55 (1973) Enamel Paint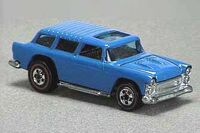 Classic Nomad (1991) California Custom
Gallery