2018 Treasure Hunts
The 2018 Treasure Hunts Series is part of the 2018 Hot Wheels line.
Since 2013, Mattel has incorporated Treasure Hunts into other series instead of being their own series.
Treasure Hunts are distinguished by the 'circle flame' symbol.

Versions
Toy #
Col. #
# in Series
Model Name
Body Color
Tampo
Base Color / Type
Window Color
Interior Color
Wheel Type
Country
Photo
Case (Wave)
FKB29
-
Dino Riders 3/5
Sting Rod II
Dark Blue
Silver, Orange & Yellow Graphics on the Hood and Sides, TH Logo on the Rear Fender.
Orange / Plastic
Red
Red
Brown & Yellow BLOR
Malaysia
A
FJW90
-
X-Raycers 1/10
El Viento
Dark Blue
Xi Electrical circuit & TH Logo on top
Grey Plastic
Grey
Tined (blue)
Black PR5 Yellow Wheel
Malaysia
B
FKB31
-
HW Ride-Ons
2/5
Tanknator
Black Grey
TH Logo, Black White Grey Digital camo, TANKNATOR on the sides
Black / Plastic
Grey Turret
NA
Back Chrome Green Rimmed OR6SP
Front Chrome Green Rimmed PR5
Malaysia
C
FKB28
-
HW Moto 1/5
Street Stealth
Black
"ホットウィール", "Salazar", "Yoko", "Miho" and "Kuni" on sides, circle flame logo on sides
Yellow / Metal
None
None
Black MC3
Malaysia
D
FKB32
-
HW Robots 4/5
Zombot
Red
Various mechanical details, yellow eyes
Black / Metal
None
None
Gray RA6
Malaysia
E
FKB23
-
Rockster
F
Blitzspeeder
G
H
J
K
L
M
N
P
Q
2018 Super Treasure Hunts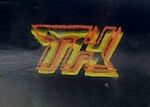 In 2018, Mattel released a series of Super Treasure Hunts, hidden among the other series.
They are distinguished by one or more of the following: Spectraflame paint, Real Riders, extensive detail, and either a writing of 'TREASURE HUNT' symbol or a TH symbol. A new feature that was added in 2015 was a flame within a circle behind the vehicle on the card like the one below, except it is the color gold.

Versions
Treasure Hunts by year