In 2016 New Models are still incorporated throughout different series in the mainline. See 2016 Hot Wheels for a list of the 2016 Mainline List.
There were also several casting debuts in 2016, including: Mazda RX-3 (Car Culture Japan Historics 1), the 1984 Ghostbusters ECTO-1 from the 2016 movie reboot, and the Porsche 964 ('89-'94) from the Track Day Series.
There were also several retools this year including: Blazer 4x4 (new tool); Custom '69 Chevy Pickup (deleted Hot Wheels logo on deck lid); Rodger Dodger; Custom '67 Ford Bronco; '75 Corvette Stingray (updated tool from the old 1970's classic 'vette); '85 Honda CR-X (new all-metal body); Sting Rod II (missiles now cast with body); Snoopy (doghouse is wider); Dodge SRT (wing is cast with body); Aston Martin Vantage (grille cast with body); Qombi (now roughly 1/2 of the body is plastic (bottom half); Ford GT LM (wing cast with body). Beginning in 2013, new castings were included in the various segment series' in the mainline with no 'First Editions' or 'New Models' series. This continued in 2016 with 50 new castings being introduced.
For new releases in other lines, see the category First Released.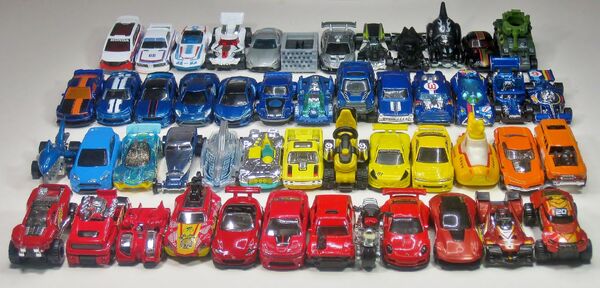 Mainline: New Models, First Editions, "New for " – by year