Ad blocker interference detected!
Wikia is a free-to-use site that makes money from advertising. We have a modified experience for viewers using ad blockers

Wikia is not accessible if you've made further modifications. Remove the custom ad blocker rule(s) and the page will load as expected.
In 2011 Hotwheels released 12 themed racing kits. Each kit included 2 vehicles and some theme related decore.
Snow Race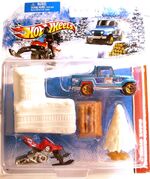 The Following Castings were in the 1/12 Snow Race Racing Kit (#V0102):
| Casting Name | Body Color | Base Color / Type | Window Color | Interior Color | Wheel Type | Country | Notes | Photo |
| --- | --- | --- | --- | --- | --- | --- | --- | --- |
| Jeep Scrambler | Metallic Blue | Chrome / Plastic | Clear | Orange | Orange Chrome OR5SP | Malaysia | | |
| Snow Ride | Red | Chrome / Plastic | N/A | N/A | N/A | Malaysia | | |
Hot Wheels Diner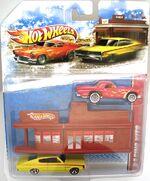 The Following Castings were in the 2/12 Hot Wheels Diner Racing Kit (#V0103):
| Casting Name | Body Color | Base Color / Type | Window Color | Interior Color | Wheel Type | Country | Notes | Photo |
| --- | --- | --- | --- | --- | --- | --- | --- | --- |
| '57 T-Bird | Red | Chrome / Plastic | Yellow tint | Transparent Yellow | LW | Malaysia | | |
| '67 Dodge Charger | Pearl Yellow | Chrome / Plastic | Clear | Black | MC5 | Malaysia | | |
Street Race

The Following Castings were in the 3/12 Street Race Racing Kit (#V0104):
| Casting Name | Body Color | Base Color / Type | Window Color | Interior Color | Wheel Type | Country | Notes | Photo |
| --- | --- | --- | --- | --- | --- | --- | --- | --- |
| Nissan Skyline | Metallic Purple | Dark Grey | Tinted | Red | White PR5 | Malaysia | | |
| '68 Nova | Yellow | Dark Chrome / Plastic | Tinted | Black | Chrome Rim, Black OH5 | Malaysia | | |
Baja

The Following Castings were in the 4/12 Baja Racing Kit (#V0105):
| Casting Name | Body Color | Base Color / Type | Window Color | Interior Color | Wheel Type | Country | Notes | Photo |
| --- | --- | --- | --- | --- | --- | --- | --- | --- |
| Off Track | Green | Satin Black / Metal | Tinted | Chrome | White 5SP | Malaysia | | |
| Baja Bug | Red | Unpainted / Metal | N/A | Blue | Yellow 5SP | Malaysia | | |
Drag Race

The Following Castings were in the 5/12 Drag Race Racing Kit (#V0106):
| Casting Name | Body Color | Base Color / Type | Window Color | Interior Color | Wheel Type | Country | Notes | Photo |
| --- | --- | --- | --- | --- | --- | --- | --- | --- |
| Pro Stock Firebird | Orange | Unpainted / Metal | Tinted | Black | Chrome rim, Black MC5 | Malaysia | | |
| Tire Fryer | Metallic Blue | Unpainted / Metal | N/A | Chrome | Red Chrome: 5SP Rear, SK5 Front | Malaysia | | |
Stock Cars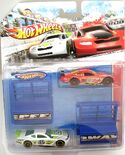 The Following Castings were in the 6/12 Stock Cars Racing Kit (#V0107):
| Casting Name | Body Color | Base Color / Type | Window Color | Interior Color | Wheel Type | Country | Notes | Photo |
| --- | --- | --- | --- | --- | --- | --- | --- | --- |
| Circle Tracker | Red | Gray / Plastic | Yellow tint | Black | Red Chrome rim, Black PR5 | Malaysia | | |
| Circle Tracker | Pearl White | Gray / Plastic | Blue tint | Lime Green | Yellow rim, Black OH5 | Malaysia | | |
Demolition Derby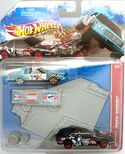 The Following Castings were in the 7/12 Demolition Derby Racing Kit (#V0108):
| Casting Name | Body Color | Base Color / Type | Window Color | Interior Color | Wheel Type | Country | Notes | Photo |
| --- | --- | --- | --- | --- | --- | --- | --- | --- |
| Montezooma | Blue | Black / Plastic | Tinted | Pearl White | Orange Chrome PR5 Front, White PR5 Rear | Malaysia | | |
| T-Bird Stocker | Black | Black / Plastic | Clear | Gray | Red Chrome 5SP | Malaysia | | |
Indy 500
The Following Castings were in the 8/12 Indy 500 Racing Kit (#V):
| Casting Name | Body Color | Base Color / Type | Window Color | Interior Color | Wheel Type | Country | Notes | Photo |
| --- | --- | --- | --- | --- | --- | --- | --- | --- |
| | | | | | | | | |
| | | | | | | | | |
Water Race
The Following Castings were in the 9/12 Water Race Racing Kit (#V):
| Casting Name | Body Color | Base Color / Type | Window Color | Interior Color | Wheel Type | Country | Notes | Photo |
| --- | --- | --- | --- | --- | --- | --- | --- | --- |
| | | | | | | | | |
| | | | | | | | | |
X-Treme
The Following Castings were in the 10/12 X-Treme Racing Kit (#V):
| Casting Name | Body Color | Base Color / Type | Window Color | Interior Color | Wheel Type | Country | Notes | Photo |
| --- | --- | --- | --- | --- | --- | --- | --- | --- |
| | | | | | | | | |
| | | | | | | | | |
Go Karts
The Following Castings were in the 11/12 Go Karts Racing Kit (#V):
| Casting Name | Body Color | Base Color / Type | Window Color | Interior Color | Wheel Type | Country | Notes | Photo |
| --- | --- | --- | --- | --- | --- | --- | --- | --- |
| | | | | | | | | |
| | | | | | | | | |
Air Race
The Following Castings were in the 12/12 Air Race Racing Kit (#V):
| Casting Name | Body Color | Base Color / Type | Window Color | Interior Color | Wheel Type | Country | Notes | Photo |
| --- | --- | --- | --- | --- | --- | --- | --- | --- |
| | | | | | | | | |
| | | | | | | | | |